THE STORY OF US CON MORGAN FREEMAN
Son muchas las preguntas que atañen a la humanidad en pleno siglo XXI ¿qué nos hace humanos? ¿algún día todos seremos libres? ¿Qué impulsa a la gente a romper paradigmas? Y tras explorar las motivaciones de la fe y la espiritualidad Morgan Freeman ganador del Óscar estrena "The Story Of Us" para adentrarnos a temas como rebeldía, amor, poder y libertad, que sin importar las fronteras, idiomas o costumbres hacen parte de nuestra cultura.
A través de un viaje por siete países, Freeman exploró las principales religiones del mundo, la ciencia, la antropología y arqueología para hablar sobre el motor que casi todos los seres humanos llaman Dios, un motor espiritual que de una u otra forma inspira a la humanidad.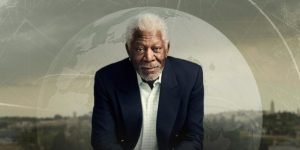 Ahora, en "The Story Of Us", el actor ganador de un Óscar indaga sobre el por qué las personas se enamoran o llegan al poder, temas que unen a todas las personas a pesar de vivir en diferentes culturas. Esta nueva serie se estrenó el domingo 21 de enero a las 9 de la noche.
Con The Story Of Us, National Geographic quiere demostrar que las personas tienen más en común de lo que se piensa, sobre todo en este tiempo que el mundo parece estar mas dividido por las diferentes culturas.
---
Entre los entrevistados también están Albert Woodfox (capitulo "La Libertad"), uno de los tres reclusos que fueron encerrados en confinamiento solitario en la Penitenciaría Estatal de Luisana en abril de 1972 después del homicidio de un oficial penitenciario. Estuvo en régimen de aislamiento durante mas de 43 años hasta que se anulo su condena en 2014. Fue puesto en libertad finalmente en 2016.
En el episodio "La Paz", Paul Kagame, presidente de Ruanda, explica cómo su pueblo fue capaz de establecer la paz después de una espantosa guerra civil. En este capitulo Freeman viaja por el mundo para estudiar los ciclos de guerra y de paz. Explora el ritual de la sagrada festividad del Tinku en Bolivia y se pregunta si es necesaria la guerra para impulsar la innovación.
El tema del "Amor" lo trata con Joshua Coombes, un peluquero de Londres que inició un movimiento social mundial llamado #DoSomethingForNothing (haz algo por nada) que alienta a la gente a realizar pequeños actos diarios de bondad. El protagonista realizó cortes de cabello gratuitos para los sin techo como una manera de ayudarlos a recuperar su dignidad.
Freeman quien viajó a Guatemala para conversar con la ganadora del Nobel Rigoberta Menchú (capitulo "La Libertad") sobre su activismo para defender los derechos indígenas; y en Bolivia habló con Evo Morales (capitulo "La Rebeldía"), primer presidente indígena del país y América Latina.
Megan Phelps-Roper, integrante de la Iglesia Bautista de Westboro antes de abandonarla en 2012, habla en el capitulo "La Humanidad" sobre su defensa por la gente y las ideas que le habían enseñado a despreciar, especialmente el valor de empatizar con la gente que tiene convicciones ideológicas diferentes.
Por su parte, el expresidente Bill Clinton protagoniza el episodio "Nosotros" y explica sobre lo que significa soportar el peso de ejercer gran poder, tanto en Estados Unidos como en el resto del mundo.
Finalmente, en la entrega "La rebeldía" Morgan Freeman busca entender que es lo que hace que una rebelión tenga éxito, lo que lleva a encontrarse cara a cara con exiliados, delatadores, hackers y lideres de movimientos. Desde Berlín a Bolivia y Estados Unidos, ve el coraje, la dedicación y el arduo trabajo y la esperanza que hace falta para tratar de cambiar el mundo.
---
Fuente: elespectador.com