The Castles presenta Quédate
La banda bogotana The Castles presenta Quédate, un nuevo abrebocas de su próxima producción discográfica 'Lo que Nunca Te Dije'.
La canción que fue producida por el nominado al Grammy Latino "Pyngwi", es un experimento sonoro entre el pop y el folk con el que The Castles espera enamorar a sus seguidores. Mezclada por Boris Milán (Andrés Cepeda, Fonseca, José Gaviria) y masterizada en Los Ángeles por Felipe Tichauer (Christina Aguilera, Luis Fonsi).
---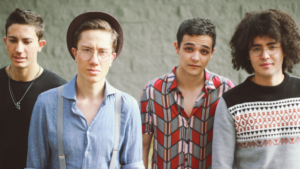 En esta nueva aventura sonora las distorsiones dan paso a violines y el vacío de la ausencia se convierte en el motor de un mensaje llamado 'Quédate'.
Julián, Pablo, Sebastián y Juan Diego entonan una nueva canción para declarar que el corazón no es tan fuerte como para soportar la vida en ausencia del amor.
"Cuando uno ama a alguien sí le afecta que no esté… Fue una de las primeras canciones que escribí del disco. Está hecha para diferentes tipos de amor y puede ser para la mamá, la novia o la ex" Juan Diego – Vocalista
---